Nordic Paradise has divided the different tasks and responsibilities in the camp into teams and areas in order to facilitate the process of setting up the camp and make it function in the desert.
There are 21 Teams organized into five Areas. A specific number of members is allocated to each team. All members of the camp belongs to one team.
One of the Team-leads in each area is also appointed Area-lead. Together, the Area-leads make up the Core Lead Group.
Read more about the different teams under respective area on this site, or check out the document "Teams and Areas"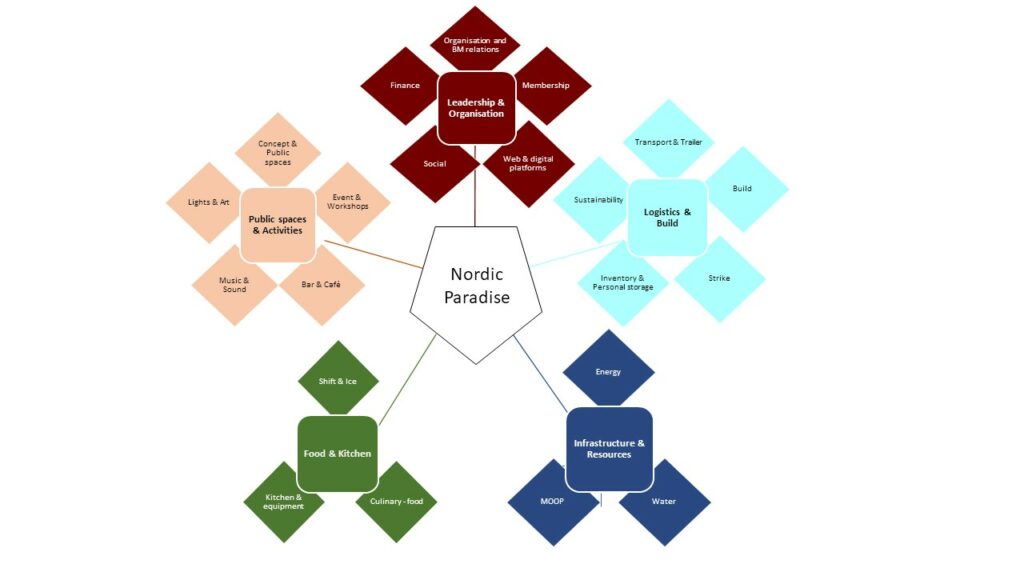 Number of members needed per team
| Team | Heads needed |
| --- | --- |
| Organisation and BM relations | 2(-3) |
| Finance | 2-3 |
| Membership | 2(-3) |
| Social | 4-5 |
| Transport & Trailer | 4-5 |
| Strike | 3-4 |
| Build | 4-5 (on site: 20-25) |
| Inventory & Personal storage | 3-4 |
| Sustainability | 2(-3) |
| Web & digital platforms | 3-4 |
| Water | 3-4 |
| MOOP | 2-3 (on site: 7) |
| Energy | 3-4 |
| Shift & Ice | 3-4 |
| Kitchen | 5-6 |
| Culinary | 4-5 (on site:10-14) |
| Concept & Public spaces | 8-10 |
| Event & Workshop | 5-7 |
| Bar | 5-7 |
| Music | 4-5 |
| Lights & art | 4-5 |
| TOTAL | 75-95 |
Number of member per team